Brenda Kelly, Principal
Holy Family Community School 1981 to the Present
Holy Family Community School opened its doors to 73 students in September 1981. It was to cater for 510 students. This represented a huge achievement for the communities of Rathcoole, Newcastle and Saggart. In 1975 a committee was formed to lobby for a Post-Primary School. This committee had representatives from Newcastle and District Residents' Association, Saggart/Rathcoole Community Council and the parent representatives on the Boards of Management of Saggart, Rathcoole, Newcastle and Scoil Chrónáin National schools.
The first meeting of the Board of Management was on 17th June 1981. The trustees appointed to our school were the Holy Ghost Fathers, the Presentation Sisters and the County Dublin Vocational Education Committee, reflecting the inclusive ethos and vision of our school. There was a tremendous sense of excitement at being part of the new Community School movement in education, where all the children in the community were to be educated together.
Our vision statement sees our school as a community of students, staff, parents and the Board of Management. We are committed to developing a community of learners. We believe that education provides opportunity for all. We nurture the well-being of all so that they may grow in knowledge and compassion. We strive to provide a school that promotes academic excellence and enables all students to realise their full potential. Our programmes, curricular and extra-curricular, develop the whole person. These educational objectives are achieved through partnership with parents, national schools and the local community.
Since 1981 we have responded to the curricular needs of our students. We introduced in 1984 the Vocational Educational Training Programme, a one-year post junior cycle programme. When the Leaving Certificate Applied was initiated in 1994 we immediately introduced it. In 1988, in response to popular demand, German was introduced and we piloted the new subject, Technology. 1994 saw the introduction of Transition Year and Music as an examination subject; the Learning Support Department was also formally established.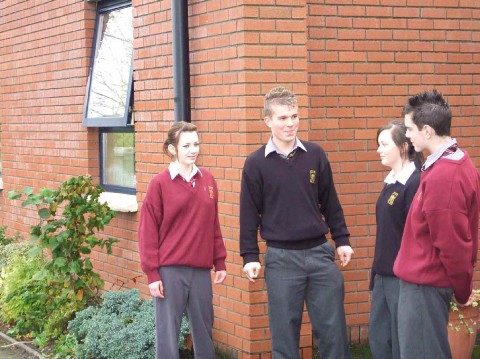 The Holy Family Community School catchment area is Rathcoole, Saggart and Newcastle. By 1985, our school had a roll call of 570 students. Built to accommodate 510 students, it was now at bursting point. Three small social areas, now offices, had to be converted to classrooms (known, none too affectionately, as the "Horse-boxes". In September 1886, a new building, Phase 2, was opened to accommodate 260 pupils.
1982 represented the high point in our catchment enrolment. The Holy Family National School sent all its 117 sixth class students to us. However, enrolment figures indicated that our local national school numbers were seriously in decline. Our population had peaked. Hence, it was decided in 1986 to try to attract students from Brittas, Rathmore and Kill. In 1991 we sought students from Manor Kilbride and Shruleen. 1994 saw the high point in our enrolment at 845 students. With the current housing development in our catchment area, our present school population is returning to one of significant growth.
Since 1981 there has been continual development of facilities for students. We developed a school oratory immediately on opening. Our ICT facilities are being constantly developed and improved. Currently we have an IT network system with two ICT rooms, a Cyber Library and an ICT annexe off the Business Studies room. 1988 saw the building of Phase Three with four classrooms, a new staff room, offices and a new reception. 1999 brought our new P.E. hall (originally promised for 1986!). In 2003 there was major refurbishment of Phase Two and provision of a new Technology Room. 2005 saw the beginning of a phased refurbishment of our original building, Phase One. In 2010, a Design & Communications Graphics room and an extra Art room were created within the school. Also in 2010, a new Phase 4 consisting of 6 new classrooms were built on site to cater for the increasing enrolment.
For much of our years since 1981, the Celtic Tiger was not roaring. There were difficult times financially. The Parents' Association played a key part in supplementing the Department of Education's funding.
Through fund-raising and the voluntary contributions, the Parents' Association constantly upgraded ICT facilities, financed a fourth science room, provided a tarmac parking-area outside the school and upgraded student facilities, which included lockers.
A major fund-raiser, in collaboration with our Chaplain, Sr. Kathleen Russell, provided the finances for a magnificent stained glass window in our Oratory, designed and commissioned by a former teacher, Helen O'Keeffe.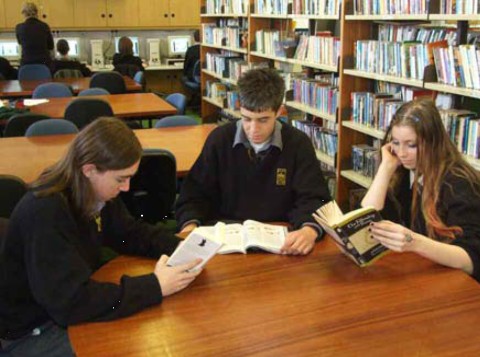 The characteristic spirit of our school is that of partnership with all the school's communities – the Board of Management, staff, parents, students, primary schools and the local community. All of these communities have worked together in partnership to build and constantly improve our school since 1981. Our Whole School Evaluation (WSE) Report (March, 2004), carried out by inspectors from the Department of Education and Science, noted that:
There is an atmosphere of mutual respect and caring among the school community, fostered by a supportive Board of Management, an open and democratic style of leadership and a hard-working and committed staff.
There is a major commitment in Holy Family Community School to helping all students, whatever their needs, reach their potential.
A caring attitude permeates the whole institution.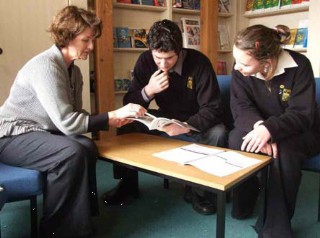 This partnership is reflected in the management and organisation of the school. Our pastoral care system involves Year Heads, Class Tutors, Guidance Counsellors and Chaplain. The Principal, Deputy Principal and teachers make decisions on policy, programmes and procedures, on a collaborative basis in consultation with parents, students and the Board of Management. Staff meetings and staff working- groups are the engines that drive our school. Our Parents' Association, at its monthly meeting, attended by the Deputy Principal, regularly considers policy and procedural issues. All policies are finally adopted and/or amended by our Board of Management. Our Students' Council, founded in 1985, is also consulted on various issues concerning them.
Openness is an important aspect of partnership. Open Days aren't just part of a marketing policy. Our first Open Day/Open Night was in 1982, when we didn't need numbers. We believe that parents and students are entitled to information, which helps the transition from primary to post-primary. Likewise, in September/October each year, we have Information Nights for all years. The format and conduct of Parent-Teacher meetings has been very successful. The Guidance Department, in co-operation with the Parents' Association, holds a Careers Information Night for our senior students. All these initiatives are done on the basis that better information gives rise to better decisions.
The final characteristic of our school ethos that we wish to refer to is our commitment to extra-curricular activities and the development of the whole person. Our teachers have been extraordinarily generous in giving of their time and talents. This has contributed greatly to the mutual friendliness and respect that characterises the teacher-student relationship.
We couldn't give an exhaustive list but the following activities have thrived at various times since 1981: Arts Week, Athletics, Annual Sports Day, Badminton, Basketball, Camogie, Ceol Tradisiúnta, Choir, Cabaret Nights, Concern Concerts, Concern Fast, Concern Debates, Debating, Foreign Tours, Gaisce – President's Award, Gaelic Football (boys and girls), Hostelling, Hurling, Musicals, Musical Soirées, Rugby, Seachtain na Gaeilge, Show-jumping, Slógadh, Soccer (boys and girls), Sponsored Walks, Students' Council Fun Days, Talent Competitions, Volley-ball, the Young Ireland Movement, Young Scientist Competition and Young technologist of the Year Competition. Our sincere thanks to Commercials' Hurling Club and Rathcoole Boys' Soccer Club for the on-going use of their facilities.
We would like to acknowledge the tremendous work of our former Principal, An t-Uas.Tomás Ó Séaghdha, in launching and establishing our school and for his dedication over 24 years. We also would like to acknowledge the equally tremenduous work of our former Deputy Principal from 1981 to 2004 and Principal from 2004 to 2009, Mr. John G. Walsh and for his great enthusiasm, energy and dedication over 28 years. We would like to wish our new Deputy Principal, Christy Morrin every success over the coming years. We thank our trustees for their commitment and support to our school. We acknowledge the wonderful contribution to our school by all the Boards of Management who have served us. We thank Fr. Noel Redmond, our Chairperson of 28 years, for his leadership and boundless generosity. We would also like to welcome our new Chairperson, Mr. John Costello and we all look forward to working with him over the coming years. We thank our Parents' Association and its current Chairperson, Mr. Mike O'Connor, for their input and support. Our thanks to our catchment and feeder national schools, their principals and teachers, for their on-going co-operation, courtesy and support. We thank the Students' Council, the Students' Executive and our 6th Year mentors. We are immensely proud of our students, past and present.
We thank our retired staff for their contribution to the success of our school:
Cleaning Staff: Betty Brady, Marie Fitzmaurice, Bridie Mullally, Betty O'Connor, Bridget Mullally
Office Staff: Sheila Collins (deceased), Theresa Clooney, Evelyn Murphy (deceased), Pauline Hynes
Teaching Staff: Margaret Duane, Joan Forde, Patricia Gallagher, Ann Hackett, Marie Langan, Gerry McKenna, Rosemary Murray, James O'Hanlon, Jackie Smyth, Mary Thornton, Eamonn Walsh, Pat Donaghue, John Walsh, Tomás Ó'Séaghdha, Valerie Giles, Gerry Kiernan, Joan Collins, Maureen Nugent and Madeline Fadden.
We remember with fondness and sadness our past pupils who have died and for whom we have created a Memorial Garden.
Finally, we thank our school team of caretakers, cleaners, office staff, special needs assistants, chaplain and teachers who together have created a wonderful school. Ultimately, we believe that people support what they create and value what they own. Holy Family Community School is our school; we created it together.