Croí na gCluichí – The Spirit of Sport in H.F.C.S.
"If you can meet with triumph and disaster and treat those two impostors just the same." Rudyard Kipling.
Students enjoy a wide range of sporting activities.
These include Athletics, Badminton, Basketball, Gaelic Football, Golf, Hurling, Outdoor Pursuits, Soccer and Volleyball.
Click HERE to go to Sport picture gallery
– Gaelic Football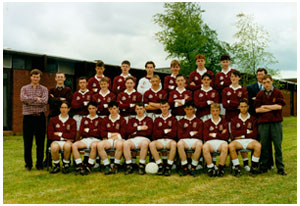 Gaelic football in Holy Family C.S. epitomises all that is good in life: hope, courage, discipline, determination and just a little disappointment. For the last twenty-five years, Gaelic football teams from H.F.C.S. have competed at U14, U16 and U18 levels each year with considerable success.
H.F.C.S. has won one U16 and one U18 Dublin Colleges' title each and there were many years when we competed in quarter-finals, semi-finals and finals.
The first success was in 1982 when we won the First Year Football Competition; the team was captained by Ray Weldon and managed by the Banner men, Flan McMahon and Dennis Corry.
After that we waited until the 29th of February 1996 for Rathcoole to capture an U18 Dublin Colleges' Gaelic Football Title. Rathcoole defeated Synge Street C.B.S. by 0-8 points to 0-7 with a panel of outstanding footballers: Ciarán Power, Patrick Boylan, Leigh Power, Gerard O' Connor, Ruby Walsh, Ciarán Kelly, Richard O' Neill, Enda Hughes, William Robinson, , David Brennan, Mark Bermingham, Richie Redmond, Eoin Ryan, Ciarán Kelly, Alan Timmins and subs: Wayne Kelly, Eoin Walsh, Paul Timoney, Nicky Condron, Scott McGarry. This team was managed by the quiet-spoken Pat McEvoy and Mick Higgins who then went on to produce a video called "The Way To Win" (Cert. 18)!
The second success was achieved on 8th of May 1998 at O' Toole Park against Coláiste Mhuire. In a wonderful match Rathcoole clung on by their fingertips in the first half and were trailing by 4 points at the break. The two corner backs, Paul Furey and Paddy O' Rourke were outstanding. During the second half Rathcoole pegged back Coláiste Mhuire with great performances by Philip Fitzgerald, David Marshall and Pearse McKiernan. With ten minutes remaining super sub Barry Eustace scored the decisive goal. The last few minutes were heart-stopping, the ball travelling from end to end. Mikie Ryan, the team captain, was tremendous during the final onslaughts of Coláiste Mhuire. Rathcoole held out to win 2-12 to 2-10. This team showed what commitment, hard work and determination could achieve. The following players made up the panel: Terry Kelly, Paddy O' Rourke, Mikie Ryan (Captain), Paul Furey, Shane Buggle, David Marshall, Stephen Brazil, David McConn, Robert Ryan (0-3), Pearse Mc Kiernan (0-1), Philip Fitzgerald (1-7), Mark Bennett, Morgan Graham, Wayne Timmons (0-1), Eoin Deegan and subs: Barry Eustace (1-0), Tomás Ó Séaghdha, Gavin Dillon, Alan Eustace, P. Fagan and John Murphy. The trainers were Gerry Kiernan and Des O' Connor.
In 2006 (before going to print) both David Marshall and David McConn represented Dublin in the O' Byrne Cup. Congratulations!
The Beautiful Game – An Cluiche Álainn – in Holy Family Community School .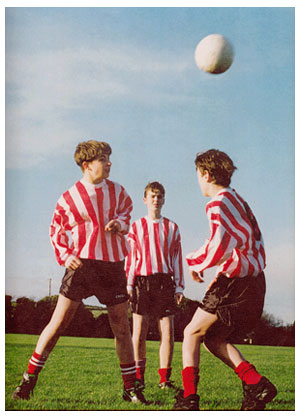 H.F.C.S. had a dream start in competitive soccer, when in 1987, the very first time the school entered a team in competitive soccer, they won the Dublin U14 and Leinster FAIS League. They were beaten in the All-Ireland semi-final by Summerhill College, Sligo.
While it always takes a team effort to perform well in such a campaign as the All-Ireland Schools competition, two players stood out, Jeff Pamplin at mid-field and Richie O'Driscoll as striker.
Each year we have competed at U14, U16 and U18 in the Dublin Metropolitan Leagues and have had no little measure of success. In 1998, our U18 team won Division 2 with a team that included such stalwarts as Martin Kenna, Philip Fitzgerald, Declan Byrne and Brian Rogers.
Two years later we repeated the feat with a team that included David and Alan Marshall, Barry Rogers, Michael Cooling and Eoin Fitzgerald.
In 2004, our U16s won the Dublin Metropolitan League with a team in which the stars included Shane Redmond, now an apprentice professional at Nottingham Forest, Graham O'Reilly, Daniel Kelly and Barry Finn, staunch defenders, Chris Jebb, a driving midfield player, the polished Philip Rooney, the free-scoring David Barrett and Ian O'Brien, and the versatile Declan Byrne.
Although, he didn't figure in a winning team, Robbie Duggan is another former student who went across the water and is now an apprentice goalkeeper with Stoke City.
The school has benefited greatly from the good will of Rathcoole Boys' Club, which has always been generous and helpful in giving us the use of its pitches and facilities for matches and of course the majority of our players have been coached in the club over the years. The Rooney Family (Forest Hills) and the Reardon Family (Rathlawns), in particular, are due a word of gratitude for their help.
Thanks to all the teachers who took charge of the boys' teams over the years: Mr. John Walsh, Mr. John Griffin, Mr. Pat Fitzpatrick, Mr. Des Purcell and Mr. James Shannon; and to the teachers who took charge of the girls' teams: Ms. Colette Phillips, Ms. Paula Roche and Mr. Colm Gormley.
Pat Fitzpatrick.
Girls' Basketball
Girls' basketball has always played an important part in the extra-curricular programme of H.F.C.S. with big numbers of students participating every year. Throughout the years, various finals have been reached under the management of Ms. Mary Moynihan, Mr. Eamonn Walsh, Ms. Denise O'keeffe and Mr. P.J. Reidy. Mr. Walsh fondly remembers the senior team of 1992 because they were the first year group for which he was Yearhead, so he was delighted when they reached the Dublin final. The senior team of 2002 was also very successful and was the first team in the school to travel down the country to play in the All-Ireland qualifiers.
In recent years, Ms. Siobhán Connaughton managed the present 6th Years to three Dublin titles in a row. Mr. Alex Bogomoletz's team also won the First Year League in 2004. In the last 4 years we have reached nine Dublin finals, a fantastic achievement. Thanks to the Rathcoole Rockets for their part in that success. At present we have basketball teams at all levels in the school coached by Ms. Connaughton, Ms. Ursula McDonnell, Mr. Bogomoletz and Ms. O' Gara.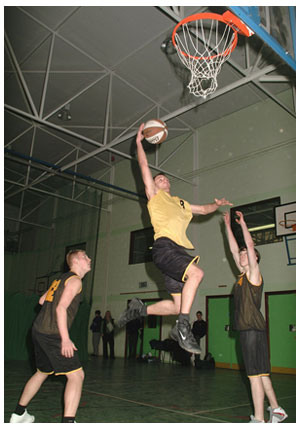 Boys' Basketball
Boys' basketball is a relatively new sport in the school but one in which we have recorded great success. In our very first year 2002, we won the Dublin League at 1st Year level and travelled to Galway to compete at All-Ireland level, a very enjoyable weekend for all involved.
On the 13th April 2004 our 1st Year team, captained by Rob Whit, competed in its first All-Ireland final. Unfortunately, a Castleisland team from Kerry got the better of us that day. We look forward to many more days like that in the future but with a better result!
2005 was another successful year with both our 1st and 2nd Years qualifying for All- Ireland play-offs. This meant weekends away in Killarney and Tralee, a great experience for those who took part.
Shane Redmond (who is now at Nottingham Forest) and Rob White have both represented Ireland at underage level.
Boys' basketball continues to grow in the school with big numbers fighting for places on teams every year. Ms. O'Gara coaches the boys' basketball with great help and support from our older and more experienced players like Alan Elbakideze, Rob White and Mark O'Dwyer.
Girls' Gaelic Football and Soccer.
The last five years has seen the school develop a girls' Gaelic team. In this time we have reached 4 Leinster Semi-Finals – a great achievement. This year we are hoping to go one step further under the management of Ms. Lynda Doyle and Ms. Ann O'Gara. Emma Redmond has gone on to represent Dublin at senior level.
Ms. Colette Phillips first started girls' soccer in 1993. There is great enthusiasm for the sport and last year Ms. Paula Roche guided the team to a Dublin Semi-Final. We are hoping Mr. Colm Gormley's team will do well this year. Ciara Crinion and Sinéad Tucker have both gone on to represent Ireland at under age level.
Ms. Ann O' Gara
Fringe Sports- Spórt Imeallach – in Holy Family Community School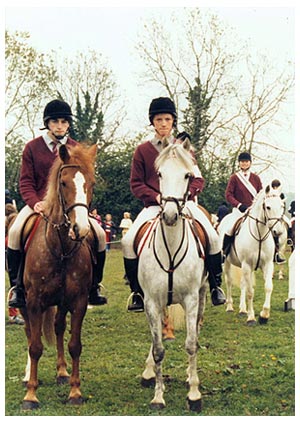 For all of its 25-year history, sport has been an important part of the life of Holy Family Community School. Team sports like Gaelic football, soccer and basketball have had the high profiles here. Other sports nonetheless, have had their days in the sun also.
In such a horse-conscious area, equestrian sports could not but have had a role. In show- jumping and cross-country, the horsemanship of students like James O'Haire, Shona Brannigan, Joey Creighton, Emer Thornton, David Cullen, George Coogan, Paul Ennis, Denis Cullen, Anne Marie Fallon, Orla Marron, Aisling Marron and Laura Byrne represented the school in gymkhanas near and far and the cups and rosettes they brought back added colour to the display of many an Open Day.
With so many golf courses in this area, it is no surprise that we have had many fine golfers in our student body over the last fifteen years or so. Names such as Warren Kelly, Vincent Kennedy, Declan Leigh and James Timmons who once played a round of a schools' competition against the young Padraig Harrington, spring to mind. The present group of golfers is keeping up the standard. Colum Kenny, Cormac Kenny and Michael Delaney won the All Ireland Junior Golf Trophy in April 2005 at Castlewarden. The senior team is also of a high calibre with the aforementioned teaming up with Paul Fitzgerald.
At the time badminton was played in the Community Centre, Holy Family Community School was a name to be reckoned with in schools' competitions. Many a tournament, involving both community schools and secondary schools generally, yielded up trophies to adorn the mantelpieces of students like Darren Walsh, Enda Phelan, Claire Hackett, Emer Quinn, Jackie Delaney, Maria Delaney, Dawn Anderson, Aoife Malone, Maeve Thornton, Siobhán Finnerty, among many others.
"When is Santry?" is the slightly ungrammatical query often heard in February or March that hinted at the annual sense of expectation surrounding the Community Schools' Athletic Championships at that venue in mid-May. Over the years, the joyous atmosphere at this event was turned to jubilation by the many outstanding performances in individual events and relays from our small contingent of athletes. Such was the excellence of the performances that many remain on the record books since the eighties. Ray Weldon (shot put), Siobhán Keane (100m), Jeff Pamplin (100m and 200m), Brian McCormack and his brother Gavin McCormack, still hold the record for their events. Other consistent winners were Patrick Boylan, Thomas O'Brien, David Marshall and Nicola Halford. Various combinations of the 'quicksilver quintet' of Jenny Dunne, Caroline Rooney, Bridget Byrne, Sheila Dowling and Siobhán Keane were rarely beaten.
Jeff Pamplin went on to win three silver medals and one bronze medal in the all-Ireland Schools' Championships. He also represented Ireland at youths' level in soccer, senior level in athletics and competed in the Winter Olympics in the bobsleigh event. How many can claim such excellence in so many disciplines?
After many years of great individual performances in Santry, Holy Family Community School has succeeded in turning out squads with strength in depth and year-by-year improvements have culminated in wining the overall trophy as the top school in the championships in 2005. The individual winners are too numerous to mention here but these same winners are determined to retain the trophy for some time to come, and when the 50th Anniversary is celebrated, their success will likewise be chronicled.
Rugby coaching has recently been introduced in the school. No doubt the aforementioned Jeff Pamplin would have excelled as a flying winger had rugby been an option in his time.
Mr. Pat Fitzpatrick.