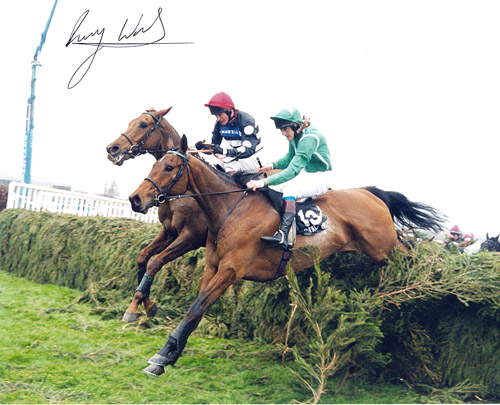 (Interviewed by Pat McEvoy, December 2005)
Ruby Walsh is one of the leading National Hunt jockeys in both Ireland and Great Britain. He comes from a family with a tradition of horse racing going back to his grandfather, Rupert (Ruby) Walsh. He was born (14/05/1979) and reared in Kill, County Kildare where he attended the local National School before coming to Holy Family Community School, Rathcoole in 1992. We are proud to have him as a past pupil.
What are your hobbies?
Man. United, rugby – Munster and Ireland.
Your favourite soccer player?
Roy Keane. Should have retired instead of going to Celtic. I admire his dedication.
Best horse? And in what event?
Papillon. Winning the 2000 Grand National.
What jockey do you respect most?
Tony McCoy, he's the best!
What trainer do you respect most?
Ted (Walsh) and Willie Mullins. Dad taught me everything since childhood. And from 16, I've also been guided and supported by Willie.
What influence has Paul Nichols (English trainer) had on your career?
He has given me good horses, many winners and has put me on the big stage!
Is there any owner for whom you would like to win a big race?
I would like to win big races for Séamas Ross and for Michael Ryan. Both have been very good to me.
What's the age to begin riding?
Seven years.
Any advice for beginners?
Love hard work, don't be in love with food, must be able to take disappointment and appreciate a good day!
What should a trainer never do?
Never insult the owner, his wife or his horse!
What are the difficulties facing racing in Ireland?
Too many 'bad' horses, not enough racecourses for winter.
What's your opinion of the proposed All-Weather track in Dundalk?
No jump racing, it would be too dangerous.
Do you have any views on flat racing?
Not my cup of tea. Does nothing for me.
What's your favourite racecourse?
Leopardstown.
How many winners have you ridden in your career so far?
Over 1000.
Does the travel from country to country and course to course tire you out?
No. I'm very lucky. We're well organised. Jennifer organises "Bubba" Amond, my driver.
What's the place to be on Saturdays?
England. Saturday racing in England is the place to be!
How has stardom affected your life?
I just walked around the school. No one recognized me!
What memories do you have of school?
I have good memories of playing football. Bad – having to do science!
Another memory I have is of my parents coming in to meet Mr. Kiernan, Yearhead, at the beginning of 6th Year after doing badly in the 5th Year summer exams!
What years did you attend Holy Family Community School?
1992 to 1997.
Any sporting achievement in Holy Family Community School?
Winning the Dublin Colleges' Under 18 Gaelic football title in 1996.
Which was most difficult in 1997, the Leaving Cert or winning the Irish Amateur Jockey title?
The Jockey title, school was getting in the way!
Did you ever consider any job outside of the racing industry?
Never had to, thank God! With my Leaving Cert, not a whole lot available. Architect, maybe.
Do you own a horse?
No. Any horse I ever had cost me money.
Will you buy a horse in the future?
Definitely!
Have you any friends through school?
No. Went straight into work.
Is there romance in your life?
Long term girlfriend – Gillian.
Favourite food?
Chinese.
Favourite drink?
White wine.
Do you have to be careful with your diet?
Yes, breakfast or lunch, never both and a small dinner.
How do you keep fit other than 'riding out'?
That's all, unless injured. Then I cycle the exercise bike.
Do you take holidays?
Only when injured or suspended! I love skiing.
What do you like to do when you have free time?
Golf. Turn the phone off.
Have you any plans for when you give up race riding?
I have dreams of being a trainer.
What are your pet hates?
People who state the obvious, people who are overcautious, physical work.
Describe your typical day.
In Ireland I get up at 7 o'clock and go to Dublin or Willie Mullins's Yard. I drink a cup of coffee on the way to either. Ride out with Willy Mullins. Go to the races. In England I stay with Tony McCoy.
Why don't you buy a helicopter?
Can't afford one. (!)
Do you do the Lotto?
No. I do the European Lotto.
What is your most memorable achievement?
Winning the Aintree Grand National. Also passing the Leaving Certificate without doing a full week's work!
Are there any empty spaces in the trophy cabinet that you would like to fill?
One, the Champion Hurdle and two, the Gold Cup.
What trophy gave you the greatest "buzz"?
The 2000 Grand National with Papillon!