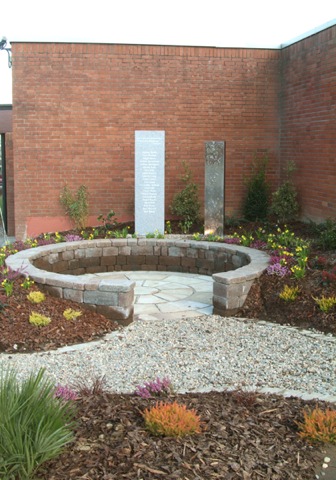 An Gáirdín Cuimhneacháin
We wanted to commemorate our deceased students with a fitting tribute and thus the idea of a memorial garden was born.
With the help of a garden designer, the able hands and strategic thinking of Pat Neilon and Tommy Glynn, and some ideas of our own, it began to take shape. John Walsh and Brenda Kelly got fully behind the project and Derek Hume (a past pupil now working at Cement Roadstone), went out of his way to supply us with materials.
And so the "Memorial Garden" project began in earnest. John Kelly, a parent from Saggart arrived with his digger and spent a long day excavating the site with the help of his son Paul. Paul Allen from the Parks Dept. (South Dublin County Council) gave us advice on tree planting and John Gannon shared his expertise on exterior lighting.
As I write this, the garden is almost finished. It will be fully completed in time for our 25th Anniversary Celebrations on March 3rd '06 when Bishop Eamonn Walsh will declare it officially open.
Our memorial garden will be a tranquil place for parents, students and teachers to visit. It's a small circular area enclosed by a dry stone wall, surrounded by plants and shrubs, with the sound of water and the students' names engraved on a granite stone.
"And I shall have some peace there, for peace comes dropping slow…"
W.B. Yeats.
Below are some of our students who have passed away. They are always in our thoughts and prayers and will always be Holy Family Community School students;
Anthony Breslin, Gary Brereton, Fergus Burke, Gráinne Drummond, Garret Egan, Christopher Elliot, Andrew Harrington, Ciaran Jones, Dermot Kelly, John Kelly, Eldon Kernan, Máirtín Lang, Gerard Leavy, Frank Pringle, Derek Melia, Stephen Nevin, Kevin Kershaw, Dylan McGrath, David Cooney, Alan Logan, Christopher McHugh, Paul McGuirk, David Mee, Ciarán Moore, Paul Moore, Linda Brady, Gerald O'Connor, Gavin O'Keeffe, Fergus Procter, Adam Reid, Paul Wynne, Thomas Browne, Ciaran McArdle, Tanya Wilkinson, Garry Kennedy, Garry Wisely, Peter Ryan
Many thanks to the following people who helped make this project a reality;
John Walsh, Brenda Kelly, Sr. Kathleen Russell, Derek Hume, Tommy Glynn, Pat Neilon, Aaron Mc Hale, Larry Behan, John & Paul Kelly, Charlie Hill, Judith Brown, Colette Phillips, Marie Pierce, Lorcán Ó Treasaigh, Peggie Dempsey, Paula Uí Bhaoill, Pauline Hynes, Paul Allen, Cllr. Therése Ridge and to all the parents who contributed to our fundraising for the Memorial Garden.
Madeline Fadden
Click on any image below to launch the photo gallery