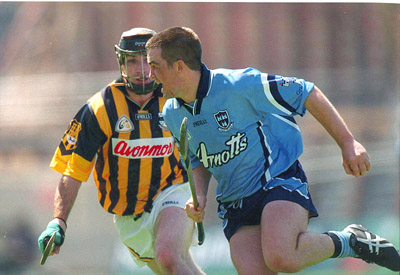 Two years before Holy Family Community School in Rathcoole opened its doors to its first students in 1981, the juvenile section of Commercials Hurling Club in Rathcoole was formed. Since then ties between H.F.C.S. and Commercials have always been close, with members of Commercials being the backbone of the successful school teams that won school competitions in the late 80's and 90's.
I joined 1st year in 1985. That year about 25 eager boys turned up for training for the U14 school team. In our first year we won a blitz that was organised for teams in South West Dublin and in that same year, we lost the league final to Leixlip on a scorching hot day on a bare pitch in Palmerstown.
1989 and 1990 were fantastic years for us, winning the U18 Dublin Colleges' finals in Croke Park. These were memorable victories against O'Connell Schools and Oatlands College. In both years we also entered the Leinster Championships. This was new and exciting territory for the panel of players, as it meant playing against teams from outside Dublin. In 1989 we made it to the quarterfinal where we met Ard Scoil Rís from Marino, who won the premier division in Dublin. We lost by a couple of points and I still look back on that game with thoughts of what might have been! In 1990 we beat Portlaoise in a cracking game in Carlow. The previous year Portlaoise won the Leinster Championship, so we had high hopes of winning that year. Unfortunately we were brought down to earth in the next round against a good team from Roscrea who were allowed to play in the Leinster Championship, owing to the fact that the Tipperary school was just over the border in Offaly. This was the first taste of inter-county hurling for a lot of our players and it certainly wouldn't be the last.
John Finnegan, John Morris, Neil Fleming, John Daly, Connie Ring and myself went on to play senior inter-county hurling with Dublin, followed in later years by Shane Cooke and Gearóid Keogh.
I couldn't talk about hurling in H.F.C.S. without mentioning Denis Corry. When I joined the school in 1st year, Denis was the goalkeeper for the Clare Senior Hurling team. The coaching drills that we went through with Denis on Wednesday afternoons were straight from Clare training sessions in Cusack Park. These drills certainly brought on the skills of a lot of the players and personally speaking, Denis gave me the confidence and belief that I could one day become an inter-county hurler. I went on to have a 10-year career with the Dublin hurlers, captaining the team for two of those years. I also represented Leinster and Ireland (shinty/hurling compromise rules) at various stages during these years with Dublin.
One of my first games for Dublin was a league match in1992 against Clare. This match was held in Tulla, which is incidentally Denis's home ground, and when we were warming up before the match it was hard not to notice Denis standing on the terrace. He stood head and shoulders above everyone else! As a Clareman, I am sure he was shouting for his native county. I am sure also that he was proud of the fact that two past pupils he had trained, John Finnegan and myself, were playing against his native county. Another two were on the bench, John Morris and Neil Fleming.
Other teachers who had trained teams during my time in school were Jim O'Donovan, Diarmaid Russell, John Griffin and Charlie Hill. My colleagues and I from Commercials, who are past pupils, would also like to take this opportunity to thank those teachers for their time, commitment and dedication to coaching and managing various school hurling teams during our memorable time in H.F.C.S.