Emily Moore has been crowned the all-Ireland winner of the Soroptimist Girl's Public Speaking Competition finals held recently in Ballina, Co. Mayo. This fantastic result is a credit to Emily, her teacher Ms. Phillips and the Soroptimist North Kildare branch. It is the first time that a student of Holy Family Community School has won this competition outright and it is also the first time that any representative from the Soroptimist North Kildare Branch has ever won the national final. The school is very proud of Emily's wonderful achievement and know that she will go from strength to strength in her future.
Emily Moore, 5th Year student, has won the regional finals of the very prestigious Soroptimist Girl's Public Speaking Competition in Bray. Emily and another student, Jade McCormack, both entered the Kildare Soroptimist Branch heat of this competition earlier in the year with Emily emerging victorious on that occasion. She put in a great performance in the regional finals against very stiff competition and was judged as joint first. Holy Family Community School has had many entrants into this competition over the years and some of our students have done extremely well. However, Emily is the first to actually win the regional finals outright. Emily will now compete in the All Ireland finals in The Newman Institute, Ballina, Co. Mayo on Sat, March 10th, 2018. The school is very proud of Emily's achievement and also very grateful to Ms. C. Phillips, English Department, who helped coach Emily and other students for this annual competition.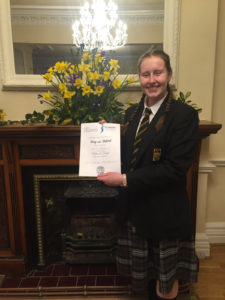 The Soroptimist Girls Public Speaking Competition was established in 1981, jointly, by the then Soroptimist President Republic of Ireland, Mildred O'Brien, and the then Soroptimist President, Northern Ireland, Marie Brownlee.
The aims of the competition are:
To encourage girls to play a more prominent part in public life
To improve the art of communication
To encourage girls to develop the skills to speak effectively and to articulate with clarity
To develop self-confidence and personality
Topics specified for the competitors' talks are based on the programme areas of Soroptimism: education, environment, economic and social development, health, human rights and the status of women and international goodwill and understanding.
The competition is open to all girls in the Senior Cycle of 2nd Level Education.
The on-going success of this annual competition depends on the commitment of the National Organisation and individual clubs throughout the country, and, of course, support from local schools, teachers, speakers and fellow students.