Well done to the TY class of 2019/2020 who have been awarded the 'Volunteering For All' award for their excellent community project with Localise Youth Volunteering. This is the second year that HFCS has been given this phenomenal award for their fantastic community work.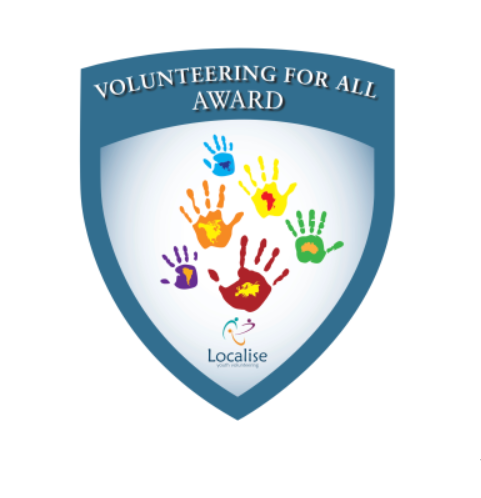 Issued to: Holy Family Community School on the 14 May 2020
Issued by:
Localise Youth Volunteering
Localise youth volunteering challenges young people to come together and make a difference in their local community by being of service to others.
Expires on: 18 June 2021
Description
The Volunteering For All Award is a nationwide initiative that recognises and affirms volunteering and chartable work undertaken by young people from all backgrounds and circumstances. Volunteering For All honours the spirit of volunteerism amongst young people, it is not a measure of quantity of volunteering taking place. This award celebrates the positive contribution all young people make to the place in which they live.
Criteria
Selected students in this school participated in a two-hour workshop facilitated by Localise Youth Volunteering and formed the foundation of celebrating the diversity and voluntary work in the school. The group was challenged to create a Volunteering For All Charter. This charter outlines the students rights and responsibilities as volunteers. In the second challenge, students surveyed and recorded volunteering already taking place in the school amongst the student body via a pre-made online survey. To successfully pass this challenge, a 70% response rate of the student body must be obtained. The school has successfully completed these challenges and has received the national Volunteering For All Award.
Skills
Active-Listening
Civic-Engagement
Community-Engagement
Cooperation
Creativitiy
Interpersonal-Skills
Leadership
Organising
Planning
Presentation-Skills